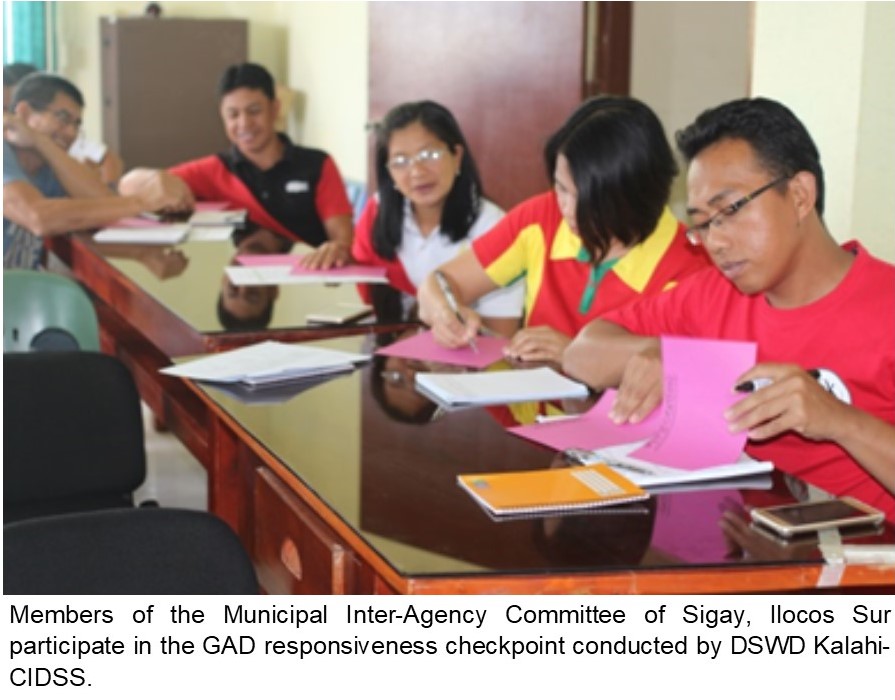 Eleven (11) Kalahi-CIDSS municipalities of DSWD FO 1 underwent a Gender and Development (GAD) Responsive Planning and Budgeting checkpoint to institutionalize systems and activities that uphold the principles and significant contribution of women to social development.
The checkpoint identified and addressed the gaps in the GAD plans of these municipalities that were identified in 2015 and 2016 through the Gender Mainstreaming Evaluation Framework (GMEF) and the Gender Responsive Local Government Unit (GeRL) tools.
The result of the GMEF tool showed that most of these municipalities are still in the foundation formation or in the installation of strategic mechanism in addressing GAD issues in their areas.
The GeRL tool, on the other hand, identified some issues that need to be addressed like providing access to breast cancer examination, center for children and youth, crisis center for women, equal opportunity policy or ordinance, and multi-purpose hall that can be used by women for recreation.
Participants included members of the Municipal Inter-Agency Committee composed of municipal officials and the heads of offices together with barangay officials.
The eleven municipalities are Nagbukel, Alilem, Burgos, Sigay, Quirino, and Sugpon in Ilocos Sur; Santol, Bagulin, San Gabriel, and Pugo in La Union; and Burgos in Pangasinan. (by Ruperto A. Sabalo, Jr., Social Marketing Officer, Kalahi-CIDSS)