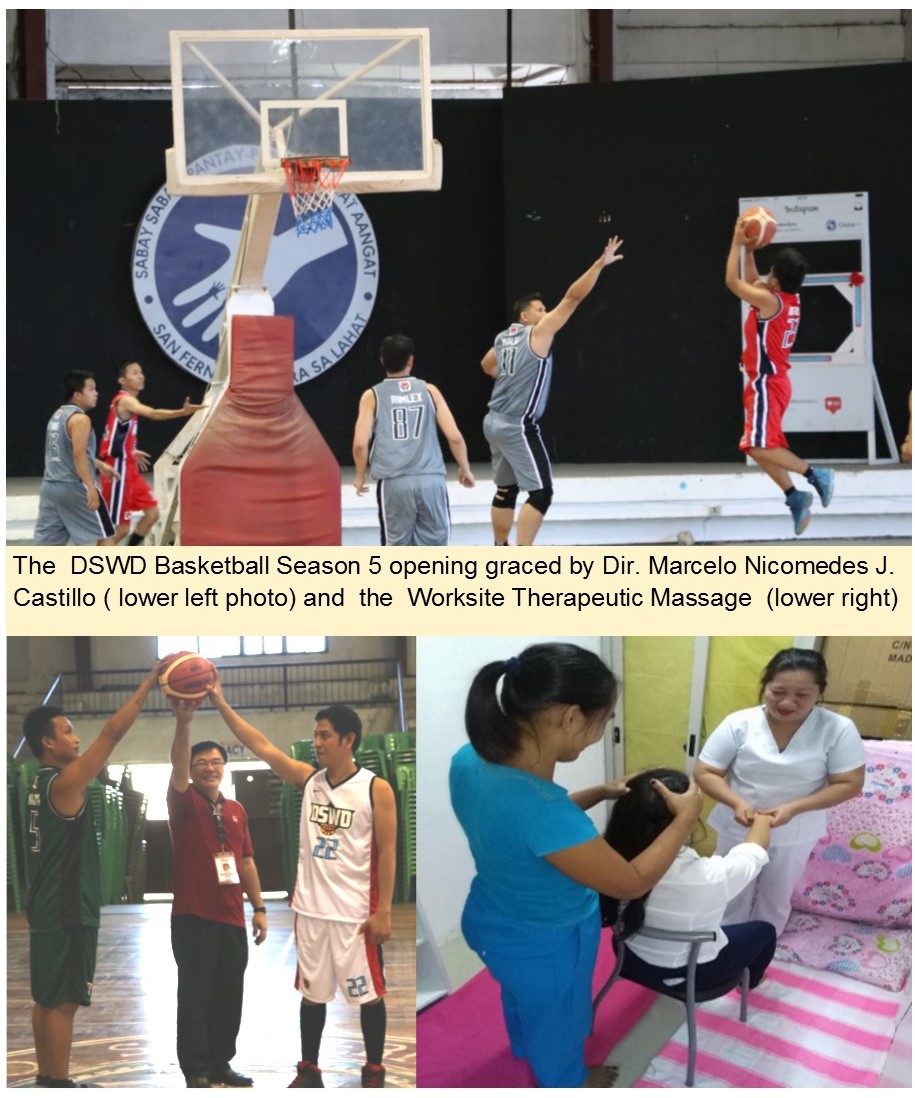 Health at work is also given attention at DSWD FO 1. Despite voluminous tasks and functions, Dir. Marcelo Nicomedes J. Castillo directed staff and employees to join activities that promote healthier and stronger body and mind as these are designed towards good and balanced lifestyle.
Just recently, the DSWD Basketball Season 5 was launched at Pacoy Ortega Gym, City of San Fernando, La Union. This Season has 6  teams namely Pantawid Pamilya RPMO, Western Pangasinan, Eastern Pangasinan, SLP, Field Office-based First Floor and FO-based  Second Floor.
Dir. Castillo reminded the players to sustain friendships outside court and to refrain from physically hurting or inflicting any harm during the entire game season.
Also, in coordination with the Medical Section, 'Zumba Dance' exercise gained appreciation from the staff.
According to Medical Officer III Mary Grace Del Castillo, this daily 15 minute-afternoon dance exercise was sustained to fight off sedentary behavior in the workplace by performing energizing dance moves. During the first quarter, the attendance sheet floated showed a very satisfactory participation despite the limited office space due to ongoing construction/ renovation activities.
The same dance exercise is being done at the Ilocos Sur,  Ilocos Norte, and La Union POOs, Pantawid Pamilya  and Kalahi- CIDSS-NCDDP RPMOs, and centers and institution.
Moreover, on-site massage is made available at the Medical Section to eliminate employees' need to travel to a massage clinic or spa with the service amounting a fraction of the cost. This activity is intended to increase focus, energy  as well as mental clarity. It also  addresses common health concerns of stress, anxiety and depression, muscle tension and pain, headaches, among others.
To coordinate and implement these activities, the DSWD FO 1 created the Health, Safety and Wellness Committee who also review, evaluate, recommend and plan activities that would foster healthy behavior and safe work environment for employees.  (By: Iryn D. Cubangbang, IO II with report from Dr. Mary Grace D. Del Castillo, Medical Officer III)