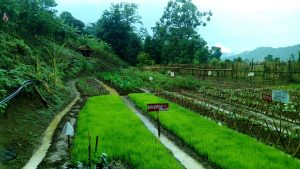 Not your typical communal garden, the Paksiw Garden of the Bago Tribe in Brgy. Mabileg, Sigay, Ilocos Sur not only grows pinakbet vegetables, root crops, and fruits but also tilapia grown in a "lapat" – an iluko term for man-made fishpond, situated within the area which adds to its extraordinary features, yielding organic produce. The scenery is best enjoyed while relaxing in their nipa hut overlooking the whole garden.
The Paksiw Garden measures 48×22 square meters and is managed by 40 Pantawid Pamilya and Modified Conditional Cash Transfer (MCCT) beneficiaries. Paksiw is an Ilocano dish with fish and vegetables cooked in a blend of vinegar and some spices like garlic, onion, and ginger.
Improvised pots made of used maong pants and shoes in front of the garden welcome the visitors in style.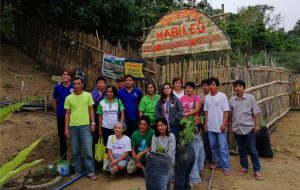 Parent Leader Leonila Solimen is proud of their garden's creativity and sustainability as it is refreshing and at the same time a bountiful source of nutritious food for their families.
Distant but abundant
The Municipality of Sigay sits as one of the interior municipalities in the Province of Ilocos Sur. The residents have to travel an hour or more through rough roads and river passages to buy their daily commodities in the nearest City which is Candon. The municipality is predominantly agriculture-based and people are engaged in agro-forestry to improve their lives.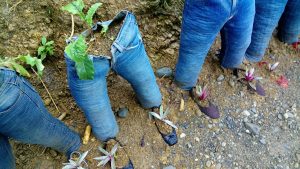 With a readily available source of nutritious food, the number of malnourished children in the locality is gradually decreasing from 26 to 22 for children aged 0-5, according to the results of the latest Social Welfare and Development Indicator (SWDI) Tool in terms of nutrition from June 2017 up to the present. The garden also supplies food to non-beneficiaries.
Gulayan as one  
The Local Government Unit commended the significant contribution of the Paksiw Garden through a Sangguniang Bayan Resolution. The LGU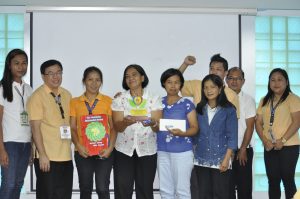 together with Civil Society Organizations assisted in the vermicomposting and organic farming methods while National Government Agencies provided free tilapia fingerlings and additional seedlings.
The Paksiw Garden was hailed as the Champion in the Search for Best Barangay Intensive Gardening during the Kannawidan Festival in Ilocos Sur. DSWD FO1 also named the Paksiw Garden as the Regional Winner in the first Search for Model Bio-Intensive Garden (BIG) last year.
A joint association of the MCCT and Pantawid Pamilya beneficiaries was established to maintain good working relationship with the Barangay Officials in maintaining their Paksiw Garden with the assistance of Pantawid Pamilya staff. The association is bound by an agreement formulated by the beneficiaries and the Barangay Officials.
Gulayan or BIG is among the thrusts and priorities of the DSWD through National Advisory Committee Resolution No. 38, series of 2016 to address hunger and malnutrition among Pantawid Pamilya children-beneficiaries. (by: Jaesem Ryan A. Gaces, Information Officer II/Pantawid Pamilya with reports from Renniel Racquepo, FDS Focal)