Kalahi-CIDSS encourages communities to be vocal about their feelings and reactions on the initiatives contributing to their development. The Program believes that everyone should be involved in maintaining peace and settling disputes in their communities.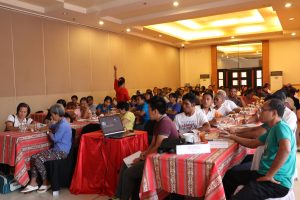 In the recently conducted Skills Training on Proper Grievance Handling, Recording, and Reporting, community volunteers belonging to their respective Barangay Grievance Committee (BGC) were trained how to properly handle grievances and resolve conflicts in their locality.
The Grievance Redress System (GRS) is a feature of Kalahi-CIDSS to promote social accountability by providing citizens means to air their reactions, concerns, and grievances relative the Program. The GRS also upholds the principle of transparency and strongly encourages the active participation of the whole community, including stakeholders, in raising their issues and be involved in its resolution.
The GRS volunteers were taught how to distinguish and intake questions, issues, and grievances according to type. Grievances may be classified as non-contentious queries and clarifications, issues regarding Program processes and arrangements, or non-conformance with procurement and finance guidelines.
Monitoring the responses and resolutions of each grievance raised is a primary function of the BGC, as well as reporting and documenting them. During the Skills Training, the GRS volunteers had a hands-on exercise on these functions where sample cases were given for their action. They had to follow the steps on handling the grievances until they find a sound solution to it.
Kalahi-CIDSS realizes that with the residents and the government working together, a peaceful, developed community shall rise. (by Helen Veryan C. Valdez, Social Marketing Officer, with reports from Evelyn G. Acosta, Monitoring and Evaluation Officer for GRS, Kalahi-CIDSS)