The Department of Social Welfare and Development celebrates the Love Month, February, by spearheading the Adoption Consciousness Week.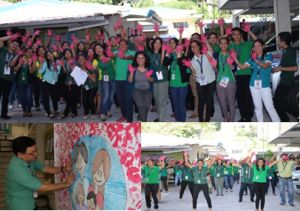 The Adoption Consciousness Week runs from 11 to 19 February 2017 with the theme "Pagmamahal Palaganapin. Legal na Pag-aampon Ating Gawin (Spread Unconditional Love through Legal Adoption)." The DSWD advocates for legal adoption as a form of true and selfless love and support to the abandoned and neglected children.
As of 17 January 2017, almost 4,300 neglected or abandoned children in the country are declared as legally available for adoption.
The celebration encourages parents and families to opt for legal adoption to ensure that the adopted children will have the same rights as those of the biological children. It also aims to address issues such as the negative perception on adoption and the discrimination experienced by adopted children.
The DSWD Field Office 1, as a kick-off activity, conducted a community dancing where the staff painted their palms with fuchsia ─the theme color of legal adoption­─and danced in unity for the children who need families.
On 16 February 2017, staff from the Child Placement Section, headed by Ms. Mylene Cabanban, visited the offices of other national government agencies, hospitals, and public and private institutions to share information regarding the process of legal adoption and to make people aware of the need to give these children their own homes.
An Adoption Help Desk in SM Rosales in Pangasinan was also opened for the public on 18 January 2017. (by Helen Veryan C. Valdez, Social Marketing Officer, Kalahi-CIDSS)