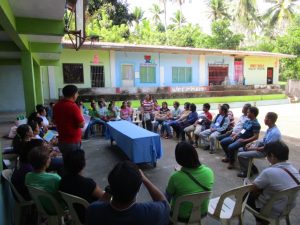 Enhancing the capability of its Community-Driven Development (CDD) Champions to better help their own communities in their development is one prime objective of Kalahi-CIDSS.
What better way to teach them than to let them explore and experience the Community Volunteers' life of their Kalahi-CIDSS brothers and sisters? Kalahi-CIDSS Region 1 journeyed to Region CaLaBaRZon for the Community Volunteers' Mission, a venue to learn the good practices of Catanauan, Quezon, a multi-awarded Kalahi-CIDSS area.
The Region 1 CDD Champions visited Barangays Bolo, Anusan, and Tagbacan Ilaya which were granted with various community subprojects. Volunteers of Regions 1 and CaLaBaRZon sat together to share the strategies they have both done to improve the implementation of the Program in their respective barangays.
LGU's rigor and vigor
The Local Government Unit of Catanauan, Quezon fully supports the implementation of Kalahi-CIDSS in their barangays. They have been a recipient of the Program since 2003, garnering recognition for their best practices and active participation and coordination. The LGU initiates allocation of budget for Kalahi-CIDSS in their annual budget to ensure that they could provide for the Local Counterpart Contribution (LCC) required by Kalahi-CIDSS.
The Municipal Inter-Agency Committee (MIAC) members actively take part in the activities of Kalahi-CIDSS; they are always eager and ready to help the Area Coordinating Team (ACT) in all processes, may it be preparation of documents or conduct of municipal and barangay empowerment activities.
The MIAC – Catanauan also warmly welcomed the CDD Champions in their Municipal Hall and gave them an orientation on what Kalahi-CIDSS has been doing in helping the communities to prosper in their own ways.
The CDD Champions pledged to share what they have learned with their fellow volunteers back in Ilocandia and create lasting and strong relationship with their LGUs, hoping to get the same support given by LGU Catanauan.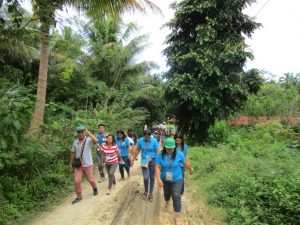 Unyielding foundation of O&M Groups
Operation and Maintenance Groups are composed of residents who pledged to take over the responsibility of caring for the subprojects to make sure they are used for the purpose they were built for.
The O&M Groups strategized ways in order to gain funding for the sustainability and maintenance of the subprojects. One way is the collection of donation from the travellers who pass by the Farm to Market Road in Barangay Tagbacan Ilaya. These groups are also responsible in enhancing and repairing the subprojects.
The CDD Champions, who are also set to create their O&M Groups, are willing to follow these strategies and develop new ones to ensure that their community subprojects will not be wasted. They all want to get the most out of it, wanting it to last for a long period.
Living legacy of Filipino bayanihan
"Mahirap, lalo na at walang bayad (It's hard, we do not even get paid)."
This line is often heard by a Program staff when asking the Community Volunteers how their life as a Kalahi is going. It is never easy to volunteer for a huge responsibility to lead your community, but knowing that many support them makes them tougher.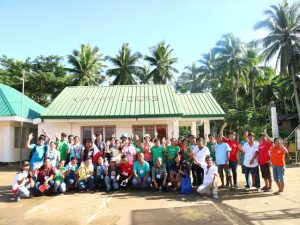 The Barangay Council of Anusan proudly shared their story of Bayanihan, a custom of unity Filipinos are known for. The Council has been contributing out of their own pockets to provide transportation services for the Community Volunteers whenever they need to convene for assemblies. The journey to reach the far-flung barangays involves riding trucks to pass through knee-deep mud. It is costly and heavy for volunteers who only have enough for their daily expenses.
Some volunteers also take the initiative to cook and prepare merienda or snacks for the attendees.
The unity and cooperation of all the volunteers made it possible for seven subprojects to be implemented in Barangay Anusan.
Barangay Bolo, recipient of a water system, ensures that whenever a grievance arises, they first try to resolve it among themselves through a special meeting. Before they ask for assistance from the Program staff, the Barangay Subproject Management Committee (BSPMC) convenes to listen to every side of the issue and decides on resolutions that would benefit all the parties involved.
Eager to be leaders
The CDD Champions are all excited to get back home and share the strategies and stories they heard in Catanauan. Everyone is ready to go back and lead the change in their communities. They know they still have a long way to go, and they will carry these practices on their way.
The successful Community Volunteers' Mission is proof that the Bayanihan spirit is alive in the hearts of all Kalahi-CIDSS CDD Champions wherever they are in the country. (by Helen Veryan C. Valdez, Social Marketing Officer, Kalahi-CIDSS NCDDP)