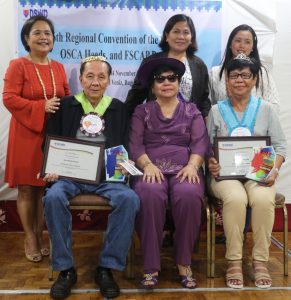 "We will never be retiring because we will never get tired helping each other – helping our fellow older persons," said Department of Social Welfare and Development – Field Office I (DSWD FO I) OIC Assistant Regional Director for Administration Nora D. Dela Paz during the recently held 6th Regional Convention of the Local Social Welfare and Development Officers (LSWDOs), Office of the Senior Citizens Affairs (OSCA) Heads, and Regional Federation of Senior Citizens Association of the Philippines (RFSCAP) President at Hotel Veniz, Baguio City.
OARDA Dela Paz also cheerfully announced to the participants the good news of the soon to be built "Home for Older Persons" in Region 1 next year to be located in San Juan, La Union for abandoned and homeless elderly men and women.
The said convention is a jam-packed event filled with wisdom, talent, and laughter. The event participants were oriented on "Disaster Preparedness" by Disaster Response Assistance and Management Unit (DReAMU) Head Maricel Caleja and "Health Needs for Older Adults" by Dr. Mary Grace DV. Del Castillo.
Meanwhile, each representative from the four provinces of Region 1 presented accomplishment reports on Senior Citizen Sector for others to emulate the best practices or activities conducted for the elderly.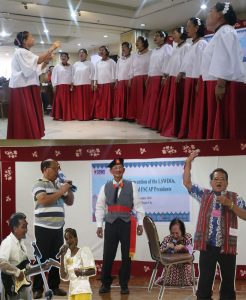 The convention will not be complete without the senior citizens showcasing their talents in a friendly competition. The Senior Citizens' talents in singing were presented during the "Awit ng Tanghalan" contest with individual, duet, and group categories.  The winners of the singing competition per category are the following: Fred Lopez of Ilocos Sur (individual category), Warlito Borja and Romana Banaña of La Union (duet category), and Magsingal Chorale Group of Ilocos Sur (group category).
Abilities in dancing were also exhibited by senior citizens during the "Hataw Na" contest as well as their other talents like acting, playing flute, and performing magic tricks in "Senior Citizens Got Talent". The winners of the "Hataw Na" dance contest are Herminia Cuyo and Marcelino Quitoriano of Ilocos Sur while the champion in "Senior Citizens Got Talent" is Lolita Riñol of La Union.
The highlight of the overall competition is the "Superb Lolo" and "Superb Lola" pageant ̶ display of ageless beauty and wits plus a confidence in modeling. The winner of the "Superb Lolo 2016" is Wilfredo Rivera of La Union while the winner of the "Superb Lola 2016" is Gloria Managuira of Ilocos Norte.
The undying spirits of the senior citizens especially the OSCA Heads and FSCAP Presidents in joining the competitions and other agenda are undeniably shown during the 3-day convention. The RFSCAP President, Judge Joven F. Costales, then stated in his speech that their unity as senior citizens must be maintained and continue to be strong like Typhoons Yolanda and Lawin. (by: Jaymante Pearl B. Apilado, Administrative Assistant III, NHTS-PR/Listahanan)