Far from the heart of the town, 100 poor families residing at the foot of mountain ranges of Lao-ingen, Sto. Domingo, Ilocos Sur started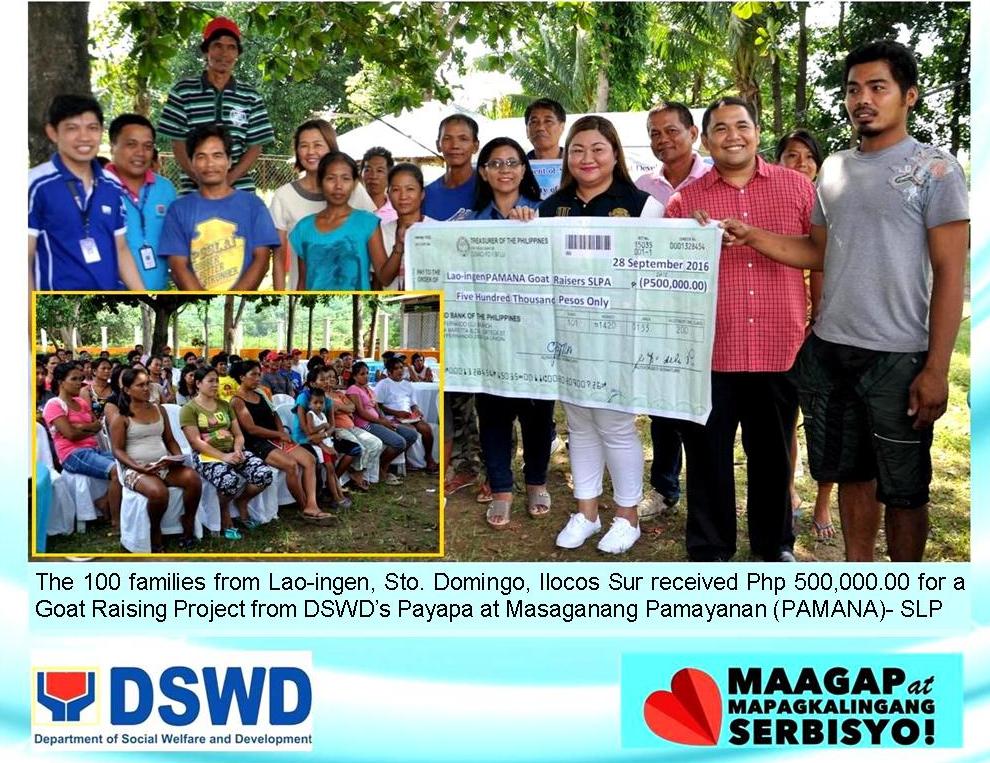 their Goat Raising Project with Php 500,000.00 fund from the Department of Social Welfare and Development.
In the Region, this is the first project of the Payapa at Masaganang Pamayanan (PAMANA) – Sustainable Livelihood Program that promotes peace and progress to communities, thus, contributing to their improved resilience, governance, and capacities.
As narrated by the old folks, most of the residents in Lao-ingen are engaged in charcoal-making and farming. But accordingly, they also replace cut trees used in charcoal-making.
Since these families are the first recipients of its kind, thankful as they are, they will still be working hard to sustain their Goat Raising Project.
As agreed in the association President Jocelyn Gasmen mentioned that  for every 2 kids produced, 1 kid  will be turned-over to the association for other interested individuals to grow.
"Nasayaat daytoy ta kaadduan kadakami ket marigrigat, adda pondo a makatulong kadakami (This is beneficial since most of us are poor, the funds will surely help)," Ms. Gasmen said.
During the Awarding Ceremony, Municipal Councilors Bryan Tadena and Cristina Jane De Vera are hopeful of the positive results of the project to the community residents if they are diligent in implementing the project. The LGU- Sto. Domingo support was assured.
In one of the social preparatory activities, Asst. Regional Director for Operations Marlene Febes D. Peralta emphasized the importance of the program to generate income of the beneficiaries towards community progress.
Prior to the awarding of seed capital, the beneficiaries have undergone series of trainings by the Department of Agriculture and the Department of Trade  and Industry. (by: Iryn D. Cubangbang, Information Officer II)