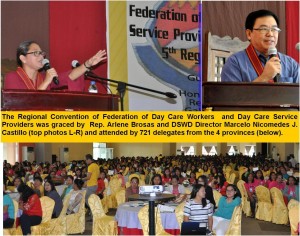 Incoming Gabriela Partylist Representative Arlene Brosas pledged to support Child Development Workers on the passage of their Magna Carta starting anew with the incoming administration.
This was highlighted during the recently held Convention of the federated Child Development Workers and Service Providers in Baguio City graced by Rep. Brosas.
With this, Rep. Brosas encouraged the Child Development Workers to equip themselves, make their voices heard, and gather allies who will push for the salary hike and other welfare due to their selfless work.
DSWD Regional Director Marcelo Nicomedes J. Castillo who also graced the occasion expressed appreciation to these workers having been in the service for a long time despite the low honorarium they are receiving.
Having been an assessor of Day Care Centers and Workers in his early years in the DSWD, Director Castillo reminded them that socialization and informal teaching are still among the most effective way to nurture and instill holistic development among the innocent children. "Let us not take away from them their expression of childhood; playing is their way of learning," Dir. Castillo said.
Workers should also learn from the children. "There is no better way of teaching but through learning," Dir. Castillo added.
Foremost, Director Castillo urged the workers not to overlook the welfare of these children instead to always give prime for their protection and development.
Other topics that updated the Day Care Workers include: Appreciative Inquiry, Appreciative Interview, New Early Learning Framework/Curriculum, New Standards/Guidelines in the Registration, and Granting of License to Operate and Recognition to Child Development Centers and Learning Centers.
The new standards/guidelines set Child Development Centers' rigid assessment on Health and Safety, Interactions and Relationships Between Staff and Children, Physical Environment, Staff Qualifications/Development/Continuing Education, Curriculum, among others. (by: Iryn D. Cubangbang, Information Officer II)