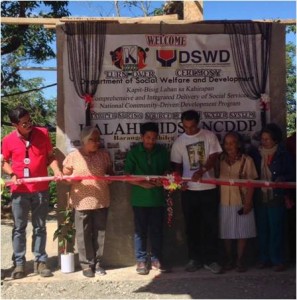 Barangay Mabileg, whose name was coined from the local term "bileg" meaning power, in the Municipality of Sigay, Ilocos Sur has completed its sub-project, a Spring Source Level II Water System funded by Kalahi-CIDSS NCDDP. The said sub-project will benefit 55 households for clean and safe water source answering the basic necessity of every family.
Leonila Solimen, a member of the Project Preparation Team, said in her testimonial that after they have decided to put up a Water System, she knew in her heart that they will be prioritized since the need for water is a major problem in their Barangay. With participation and unity, her guts did not fail her.
Emphasizing on Community-Driven Development, an approach used by Kapit-Bisig Laban sa Kahirapan Comprehensive and Integrated Delivery of Social Services (Kalahi-CIDSS) the members of the community become the main agents and key players in assisting development in their Barangay. The community was in-charge of the sub-project from its planning stage, its completion, and its maintenance. Their active participation in all the processes signifies their full ownership of the subproject.
The recently held turn-over ceremony was attended by representatives from the Municipal and Barangay Local Government Units, staff from the Regional Program Management Office, the Area Coordinating Team, and the Barangay Sub-project Management Committee.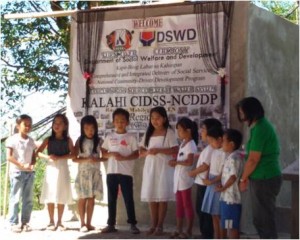 Marcial Ubuan, the Barangay Waterworks Association Chairperson, said in his acceptance speech, "Ipanamnama mi apo nga daytoy nga Water System ket aywanan mi tapnu iti kasta mataginayun nga usaren iti bumarangay ken kadagiti dadduma pay nga makasapul (We promise to take good care of and maintain this Water System so all the members of the barangay and those who need can use it)."
Eliza Comiles, with tears on her eyes, sang "Thank You Lord for Your Blessings on Me" by The Easter Brothers to send her gratitude to the blessing they have received.
"Agyaman kami kadakayu amin, iti ACT, iti MLGU, nu awan ti panagtartarabay yu kadakami, awan met magun-uddan mi (We thank everyone, the ACT, the MLGU, for without your guidance, we will not be able to achieve this)," Solimen said. (Helen Veryan C. Valdez, Social Marketing Officer, Kalahi-CIDSS NCDDP)