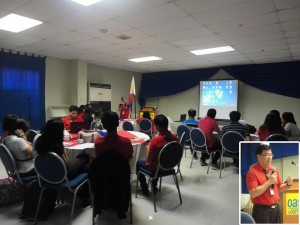 The National Household Targeting Unit (NHTU)/ Listahanan of the Department of Social Welfare and Development – Field Office 1 (DSWD-FO1) is working on the upcoming Validation and Finalization Phase this month.
On 17-19 September 2015, the orientation/workshop of Listahanan 2nd Round of Household Assessment Validation and Finalization Phase was attended by the DSWD-FO1 NHTU Staff together with the 15 Area Coordinators (ACs) during the enumeration period. The 15 ACs were re-hired as Area Supervisors (AS) and will act as secretariat during the validation phase.
NHTU Regional Field Coordinator Joan Nuesca presented the timeline and things-to-do to attain the launching of the DSWD-Central Office National Database of Poor Households by last week of November. She reiterated to the AS that they need to inform the Local Government Units (LGUs) in their municipality that the database of poor households will soon close after the Validation Phase, so the households should grab the chance to be assessed by the AS / Enumerators come Validation Phase.
Further, NHTU Focal Person Anniely Ferrer reminded the AS that since election is fast approaching, there are instances that politicians might interfere in the process, so they have to be cautious because Listahanan is not just making the database of poor households accurate and true but also maintaining its integrity.
Meanwhile, Listahanan radio plugs are now airing in the Provinces of Pangasinan, La Union, and Ilocos Sur starting on 16 September 2015 until 29 September 2015 to remind the public to watch out for the posting of the initial list of poor households in their barangays for them to check and validate. Tarpaulins were already distributed to the 1st 15 AS and are now posted at the Municipal Social Welfare and Development Offices to guide the public on the process of validation. Likewise, the printing of posters and flyers to be distributed in all 3,265 barangays of Region 1 is now on going.
Validation and Finalization Phase aims to come up with an accurate, credible, and final list that will be generated after a thorough review of the initial list of poor households within the communities and their LGUs. It is also an opportunity to facilitate the identification of wrong entries, process complaints, and accommodate changes based on merit. (by: Jaymante Pearl B. Apilado, Administrative Assistant III, NHTS-PR/Listahanan)