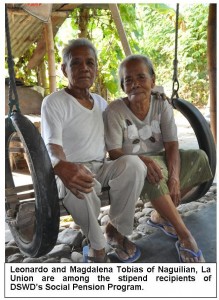 Happy 84- year- old Leonardo and Magdalena Tobias of Naguilian, La Union shared how relieved they felt with the stipend received quarterly.
"Napalalo ragsakmi ta nairaman kami a pensioners (We are so glad we have been included among the social pensioners)," the old couple affirmed. They consider the stipend from the DSWD's Social Pension Program as the first help of the government that reached them.
The stipend helps the couple buy their basic needs. "In-inut a nagatang kasapulan mi kas iti sida, bagoong ken asin (We buy our basic need such as viands, fish sauce, and salt)," the couple narrated. According to them, these basic items complete their plain kitchen made of scrap woods.
Accordingly, the stipend is the only source they depend on for their basic needs. Living independently from their children, Leonardo and Magdalena keep themselves busy by tilling a small vegetable garden of taro, pechay, and legumes.
One thing they wish for is for the stipend to last until they die. "Nu mabalin makaawat kami kuma ket agingga tumangad kami iti baris –sanga ta haan kami a makatalonen (If possible, we receive stipend until we look up to old twigs (death) since we can no longer farm)," Leonardo said.
Not too old for a vegetable garden
Waking up early, the couple cultivates their garden of taro, pechay, lima beans, and bitter gourd. This is also the main source of the viands that they cook. Some of their produce is given to their children who are also living in the same compound.
Since they easily get tired, they need to do some physical activity to maintain their vigor said Leonardo. During harvest season, they also help dry rice grains in the neighborhood.
Education advocates
The couple makes up for their regret of not being able to send their 11 children to college by constantly reminding their grandchildren to finish their studies. Teary–eyed, Lola Magdalena expounds how education would help her grandchildren land good jobs and become successful.
To behold until last breath
As a loving couple, they want to model humility and understanding that bind them until their old age for their children. "Agpinpinnateg kami latta aginggana matay kami (We cherish each other until we die)," the old couple said. (by: Iryn D. Cubangbang, Information Officer II)