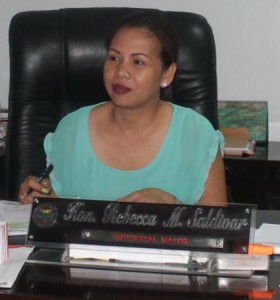 "The children are our future. We invest in them through early childhood care and development with the aid of the Supplementary Feeding Program (SFP) of the Department of Social Welfare and Development (DSWD)."
These words were underscored by Municipal Mayor Rebecca Mejica Saldivar of San Nicolas, Pangasinan who believes that a progressive community starts with healthy, bright, and responsible children.
She claimed DSWD's SFP as a strong weapon to fight malnutrition among Day Care children in their municipality.
SFP carries on
Because of this conviction, Mayor Saldivar allowed the year round implementation of SFP in their municipality to ensure and prolong its effect to all Day Care children, and it is now on its fourth year.
Various food items are provided by the local government unit and other private individuals and groups as their augmentation support to the SFP implementation.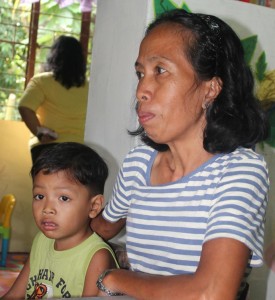 According to the Municipal Social Welfare and Development Officer (MSWDO) Delia Dalutag, part of San Roque Power Corporation's corporate social responsibility is the yearly provision of milk, biscuits, cookies, champorado, noodles, and the like as additional food for the Day Care Children through SFP. She also added that the corporation also sponsored the construction of some Day Care Centers (DCCs) and even donated books for the children.
With MSWDO Dalutag's assertiveness, she was able to solicit the all-out support of the Municipal Officials and other private individuals and groups. Free transportation is being shouldered by the LGU to deliver goods to all DCCs especially those located in the mountainous areas.
SFP finds a way
MSWDO Dalutag narrated that some Day Care children from far flung areas are now able to eat regularly through SFP. Their family's budget for food is now being used for their other daily needs.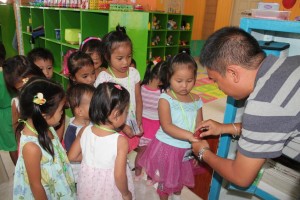 This statement was supported by Editha Pascua, 52, widow, also a Pantawid Pamilya beneficiary from Brgy. Malilion, who claimed that she can now buy vitamins and other medicine for Akihiro, 3, the youngest among nine offsprings, who studies at the Magnolia Day Care Center.
Because of this, Editha is so much grateful to see Akihiro as a healthy and active child. (by: Jaesem Ryan A. Gaces, Administrative Assistant III, NHTS-PR/Listahanan)