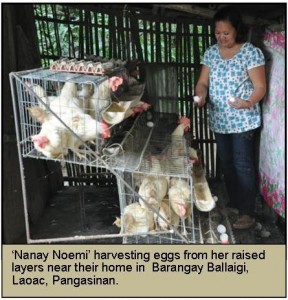 To fast track the improvement of well-being of Pantawid Pamilya beneficiaries, the municipality of Laoac in Pangasinan focuses on providing the livelihood needs of Pantawid Pamilya beneficiaries such as the Pulido Family who earns a living through mini-poultry, goat-raising and mini food house or 'carenderia'.
Hard work, perseverance, ability to manage livelihood projects are among the criteria set by Honorable Mayor Silverio Alarcio for those beneficiaries awarded with such projects.
Aside from these livelihood projects, Nanay Noemi is an ambulant vendor of native cakes and other delicacies together with vegetable and meat viands sold at the public market.
Occasionally, the husband and wife cook for small parties or family gatherings because of many customers familiar with the tastiness of their products; there are instances when she gives the recipe to her husband to do the cooking while she attends the operation of her 'carenderia.'
Togetherness Builds Family
As observed in the Pulido family, performing several tasks in the family do not only strengthen the bonding of the couple but also maximizes their potential in multiplying the income of the family.
Pulido's hard work was intensified by the Pantawid Pamilyang Pilipino Program. 'Nung dumating ang Program, mas nadagdagan pa ang kasipagan namin, (The coming of the Progam increased our hardwork and perseverance for our family) Bonifacio Pulido exclaimed.
Coping with the busy schedule of parents, their sons Jeffrey Luis and Bon Ryan attend to household chores like cleaning the house, laundry and even cook for the food of the family; which make their Nanay Noemi more proud of them.
Community Work Parallels Good Work to Fellow Men
Nanay Noemi is an advocate on the rights of women, an inspiration of hardwork and love of family. These are the observed traits of Nanay Noemi among her neighbours.
In order to share the assistance received from the LGU of Laoac, Nanay Noemi divided the 96 layers and shared it with fellow Pantawid Pamilya beneficiary. Along with it, she continuously follows up on their activities on handling the layers and does the book keeping to ensure that they are doing good.
With all the activities of Nanay Noemi, her being a Parent Leader is never neglected. She informs her fellow beneficiaries on the updates of the Pantawid Pamilya Program and encourages them to join community activities.
Nanay Noemi is also an officer of the women group called Kalipunan ng Liping Pilipina (KALIPI), while Tatay Bonifacio also acts as Barangay Tanod. (by: Iryn D. Cubangbang, Information Officer II)