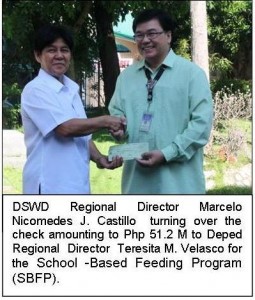 'Severely wasted children' or undernourished children from kinder to grade six are now receiving additional one 'hotmeal' for 120 days with the DSWD's Php 51.2 million funding on School Based Feeding Program (SBFP).
Recently, a check was personally received by the Regional Director of the Department of Education Regional Office 1, Dir. Teresita M. Velasco from DSWD Regional Director Marcelo Nicomedes J. Castillo.
Uplifting the nutritional well-being of the children is the prime consideration of this Program particularly for the needy children who are victims of hunger and deprivation, Director Castillo explained. Relatively, to converge the various programs of the government towards the betterment of the children a continuous partnership must be sustained particularly on PantawidPamilya Pilipino Program implementation.
As a response, DepED Regional Director Velasco thanked the DSWD in promoting quality education to children especially in Region 1 through the provision of additional 'hotmeal'. She promised that the agency will ensure that the fund which was transferred to them will reach the intended beneficiaries and assured that there will be no ghost recipient school.
As among the components of the Program, at least 85% attendance among the children- beneficiaries is being monitored for continuity of feeding, thus, improved school performance. Height and weight of the children-beneficiaries are also taken at the start and every after three months thereafter until the feeding is completed.
The DepED will also include the following activities: deworming, food production, waste segregation, good grooming and personal hygiene, and values development among others. (by: Iryn D. Cubangbang, Information Officer II)