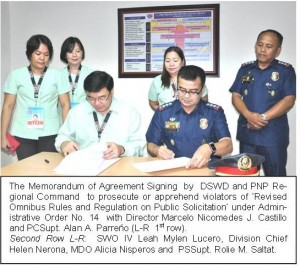 DSWD enjoined Philippine National Police Regional Command (PNP ReCom) to assist in safeguarding public funds entrusted by donors through various paraphernalia such as 'coin box,' raffle tickets, letters, concerts-for-a-cause, donation boxes, among others.
Permits of these solicitation activities and paraphernalia are given and regulated by DSWD and its counterparts at the Local Government Units (within one area of coverage).
These permits are issued to any requesting person, corporation, organization desiring to solicit or receive contributions for charitable and public welfare purposes.
With the various activities set by many institutions, there is a need to confiscate expired and illegal solicitation paraphernalia not within the standards set by DSWD. This was Director Marcelo Nicomedes J. Castillo's tall order.
Transparency and accountability are ensured whereby funds solicited will serve its purposes for charitable and public welfare activities, Director Castillo emphasized.
During the Memorandum of Agreement Signing, PNP-ReCom assured all-out support as committed by PSSupt. Alan A. Parreño representing Regional Director PCSupt Roman Aloña Felix.
It can be noted that LGUs issue permits to solicitation activities held within their area of jurisdiction while DSWD issues these to activities done in two or more municipalities or regionwide.
Funds collected should not be used for prizes or awards, instead, 85% of it shall be used to implement activities while the remaining 15% will be used as operating cost.
Monitoring of social welfare and development activities is done by DSWD staff. Within two months from the issuance of the permit, the audited financial report is submitted to DSWD. (by: Iryn D. Cubangbang, Information Officer II)