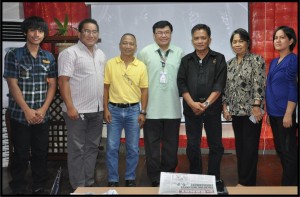 Since it started 5 years ago, DSWD Field Office 1 continue to assist less fortunate families through the Pantawid Pamilyang Pilipino Program which has reached 187,449 families to date.
Thus, revealed by Director Marcelo Nicomedes J. Castillo in the Press Conference held recently with the following media institutions: DZNL-Aksyon Radyo, DZSO-Bombo Radyo, DZAG- Radyo ng Bayan, Rock City – FM, Amianan Tribune, The Weekly Banat, The Weekly City Bulletin..
The continuous efforts to improve the well-being of these beneficiaries with the Sustainable Livelihood Program, employment and provision of capital assistance were facilitated.
As to date, there are now 10,739 individuals provided with capital assistance, while 381 beneficiaries were facilitated to employment through the Department of Public Works and Highways' road maintenance and construction projects.
On the other hand, poor senior citizens benefiting from the Social Pension Program will be bigger this year with the target of 39,763 indigent senior citizens. However, there is a need for the regional office to conduct special validation on the current beneficiaries provided with stipend as to their status. At present name-matching is done at the National Household Targeting Office- Central Office.
Last year (2013), DSWD served 18,011 indigent senior citizens through the provision of Php1, 500.00 stipend for every quarter.
With the launch of the photo journal of the senior citizens 'Kagay', La Union media practitioners aired their appreciation on the Social Pension Program and their desire to also document their stories.
As such,  a community exposure with the media will be pushed through this year.
More importantly, the directives and thrusts of DSWD for this year is anchored on the 'new normal' perspective of DSWD which is the reality posed by climate change and poverty to poor and vulnerable families, as mentioned by Director Castillo.
With these 'new normal,' stronger and fiercer typhoons may hit our country anytime; the poor families are the most affected by these. Thus, they become more vulnerable to both disaster and poverty, Castillo added.
With the core social protection programs of DSWD and converged services with other agencies, the focus now is to elevate the level of well-being of these beneficiaries to self sufficiency and helping them access to at least 2 social protection programs. (by: Iryn D. Cubangbang, DSWD-Information Officer II)