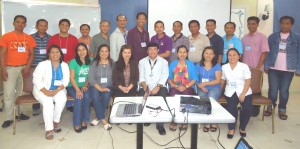 Fathers given seminars on parenting skills through DSWD- Empowerment and Reaffirmation of Paternal Abilities (ERPAT) are now creating positive results and trends in solidifying families in Anda, Pangasinan.
  At least 30 'fathers' were trained by DSWD on ERPAT. Since then, they became more active in the activities of their communities and the municipality of Anda aside from them being religious leaders in their own Christian groups.
 Thus, said Head Social Welfare Officer Jowey Celso who also leads the group in their monthly meetings where ERPAT advocates share struggles and challenges in moulding their own families and in becoming role models in their own communities.
 They call themselves 'transformers,' which they started in their own families," Celso added.
 According to one of the ERPAT trained Pastors, Ptr. Rogelio Valdez, "we like being taught how to love more our wives and better understand our children." At first, some of us are hurt, sensitivity of 'issues' in the family is carefully undertaken. But today, we are now considered model of the ERPAT in our own communities, Valdez added."
 As mentioned, during roll-out trainings among fathers in the community, it was observed that over the years that these couples lived together, inhibitions, gaps, misunderstanding led to coldness and insensitivity.
 ERPAT, a challenge to change
 As change agents in their own families and communities, the trained ERPAT also pushed for the creation of a Municipal Ordinance on the Moral Recovery Program.  This was also partnered with National Auxiliary Chaplaincy Philippines (NACPHIL),   where a chaplain (also ERPAT trained)  is assigned  in every  barangay as 'spiritual leader' joining the barangay officials in their meetings and activities.
 In the Municipal Level, the trained ERPAT are also involved in 'Sangguniang Bayan Members' Meetings/Sessions where they are tasked to lead invocations and other concerns where they could help.
 A larger Vision for Fathers
 As a growing group of fathers in Anda, Pangasinan, they envision their communities abounding with sensible, loving and responsible fathers contributing to community development as a whole. As said "pag matino ang tatay, mapapatino ang buong pamilya; at pag matino ang pamilya, mapapatino ang buong komunidad."    (by: Iryn D. Cubangbang, Regl. Information Officer)