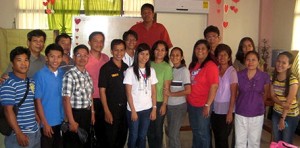 Having served 1,997 Pantawid Pamilya beneficiaries on monthly Family Development Sessions (FDS), volunteerism anchored on love of God and of fellowmen is the prime motivation of the Pozorrubio Evangelical Ministers Movement (PEMM) as confirmed. Sixteen (16) pastors facilitated Family Development Sessions (FDS) for 10 months, which if monetized these services could sum up to a big amount of money,  but they heartily served without being paid.
 The ministers felt the need for the beneficiaries to learn topics in the FDS modules. This is aside from channelling received grievances to the Municipal Links.
  "The FDS modules are developed to address beneficiaries' needs
in practical living, which the ministers found useful and also shared during their church services" said Pastor Diosdado Tablac.
 As mentioned, all of the 16 pastors of PEMM work with the FDS without complain, as if working for God. They also use this as a vehicle to reach for the lost souls.
 Change starts from educating
 Aside from grievances, typical values orientation on solidifying families and encouraging marriage among live-in partners; the FDS also served as a channel to campaign on anti-drug abuse and environmental preservation.
 The FDS also increased participation in the community particularly on the monthly clean up aside from its main goal of keeping children healthy and in-school.
 As Pastor Tablac's experience, the FDS was used to encourage the beneficiaries to prioritize roles in their families and communities and not to solely depend on 'cash grants' received every 2 months. Beneficiaries were encouraged and were advised to look for jobs or be involved in income generating activities.
 FDS, a service to God
 With DSWD, we are not only partners but we are doers of the living word. This is the very essence of life, loving God through services given to other fellow, Ptr. Tablac mentioned.   (by: Iryn D. Cubangbang, Regl. Information Officer)