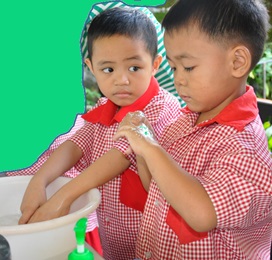 As the song goes, 'clean little hands are good to see,' at least 77 Day Care children from  Doña Corazon Ortega Day Care Center in San Fernando City, La Union  continue to practice healthy habits as they joined the Annual Global Handwashing Day recently.
Aside from  adherence to  standards on the provision of quality services, proper hand washing techniques and provision of necessary facilities were advocated during the event.
Even with meager resources, Day Care Workers see to it that projects promoting  the best welfare and interest of the Day Care Children are implemented along with the support of  Day Care parents and the City Government,  said Day Care Worker Rosemarie S. Villanueva.
Aside from these,  ensuring the availability of soap, clean water, hand washing facilities, hygiene facilities and functional child-friendly toilets were also encouraged among the Day Care Workers as emphasized by DSWD staff Naressa Garvida.
To note, DSWD  continue to implement the DSWD Administrative Order No. 15 series of 2011  which stipulates the 'Guidelines for the Accreditation of Day Care Centers and Day Care Workers' that includes provision of hand washing facilities  for proper hand washing practices  in the centers.### (by: Iryn D. Cubangbang, Information Officer II)