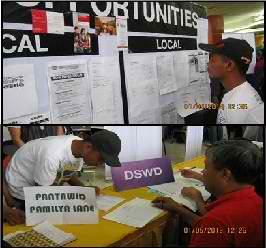 ROSALES, PANGASINAN – Benedict Pascua, 26, from Brgy. Catuday, Bolinao, Pangasinan is among the multitude of Pantawid Pamilya beneficiaries who grabbed the opportunity to apply for a job through the 2013 Labor Day Job Fair at the SM Rosales in Pangasinan.
"Through this, I have many choices of what to apply for." he said. According to him, this is his first time to participate in a Job Fair so he learned that is now easier for him to look for a job. Benedict is grateful that he was able to participate in the Job Fair through the Department of Social Welfare and Development Field Office 1 (DSWD-FO1) and applied as a warehouse man in a private firm because he had just finished his 3 months contract as a construction worker.
With his full determination, he believes that he will be hired the soonest possible time. "I have the skills and I am also hard working. I am doing this for my better future especially when I get married though it is not yet my plan", he added.
According to ARD Marlene Febes D. Peralta, the DSWD-FO1 coordinated with the Department of Labor and Employment (DOLE) to refer all the qualified Pantawid Pamilya beneficiaries participating in the Job Fair to private offices and business establishments and give them priority in applying for work. A separate table and lane for Pantawid Pamilya beneficiaries was installed for their registration and further assistance.
"This is just one way of the Department for the employment facilitation of the beneficiaries through organizing the Inter-Agency Committee on Sustainable Livelihood Program (SLP) especially those with livelihood and employment programs. It is also an approach to strengthen public-private partnership and convergence strategy", ARD Peralta explained.
jobfair1 Only 75 beneficiaries from Set 1 to include Aguilar, Mabini, Urbiztondo, and Bolinao, Pangasinan were expected to participate in the Job Fair in coordination with the DOLE but it jumped up abruptly to 221. Many beneficiaries from other set areas came and applied for job.
Regional Program Coordinator on SLP Agnes Tambalo mentioned that many of the beneficiaries were aggressive to participate because all of them are job seekers. She also revealed that the beneficiaries possess the skills needed by companies or business establishments that could lead them for better employment.
She also hopes that all the beneficiaries who applied for job will be hired as a proof that all the two cluster Pantawid Pamilya districts in Pangasinan will be