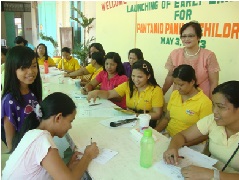 To ensure that all Pantawid Pamilyang Pilipino Program children are enrolled, the Department of Social Welfare and Development Field Office 1 (DSWD-FO1) in  partnership with the Department of Education (DepED) recently launched the Early Enrollment of Pantawid Pamilya children in Dagupan City.
The annual activity aims to enroll all eligible Pantawid Pamilya children ages 5 – 14 years old before May 15, 2013 to timely update their status and incorporate those information to the program's Beneficiary Update System (BUS). This will later identify those who are expected to receive cash grants in July.
DSWD – FO1 Assistant Regional Director Marlene Febes D. Peralta emphasized the importance of enrolling children in school as one of the steps in getting out of poverty. The education received by children today will be the answer to eventually cut the existing intergenerational cycle of poverty.
There are 48,376 who are 3-5 year-old and 183,015 ages 6 – 14 year old Pantawid Pamilya children beneficiaries targeted to be enrolled and receive primary education.
The Department of Education, on the other hand, will ensure the 100% compliance of schools to the early enrollment.
Pantawid Pamilya is a rights-based approach program which provides cash grants to extremely poor households with children ages 0 – 14 years old for their health, education and nutrition needs.