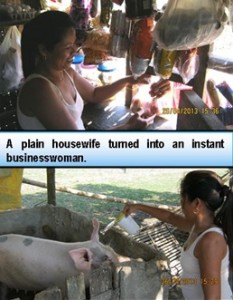 Not just one but two and more. Managing her own businesses at once while maximizing her vocational skills. That is now the strategy of Dorie Abella, 36, a mother of two and a member of Brgy. Nibaliw Pantawid Self Employment Assistance Kaunlaran Association (SKA) in Mabini, Pangasinan to earn a living for her family after enjoying a year round capital assistance in 2011. Now, she continues to run her variety store and also serves as a caretaker of a small piggery situated in their backyard plus being a cosmetologist, as well.
Springboard towards Sustainability
Through the capital assistance granted to Dorie last year amounting to Php10,000.00, she was able to sustain her variety store's operation. "Nagsimula ako sa maliit lang na puhunan noon para sa aking tindahan pero nakayanan kong patakbuhin ito hanggang ngayon dahil sa tulong na ibinigay ng SKA sa akin" (Before, I just started with a small capital, but then through SKA, I was able to manage my store until now), Dorie exhorted.
According to her, such capital assistance means a lifetime for her family, especially that her husband Lorenio, 39, has no stable job aside from cow raising and farming.
Also, Dorie partners with her Aunt in raising pigs. As an agreement, she gets a share from the piglets, the moment the mother pig gives birth. She plans to sell some of them and raise the others, as well.
While managing her store and raising pig, she also encourages her customers, relatives, and friends to avail of her cosmetic services such as manicure, pedicure, and haircut.
Dorie earns approximately Php1,900.00 a month from her cosmetic services. Thus, she utilizes it as an additional capital to make her store grow more. Her monthly net income from her store amounting to Php1,200.00 is somehow beneficial to meet the basic needs of her two children Arjon, 15 and Armhay, 11 who are still studying in high school and elementary, respectively.
Aftermath Foreseen
After almost five years, Dorie's family is about to graduate from the Pantawid Pamilyang Pilipino Program this year. Being one of the beneficiaries she said that such program is indeed a great helping hand to them especially to her two children in their health and education. "Mabuti nalang at napalago ko ang aking negosyo na siyang pinagkukunan ko ng pandagdag sa gastusin ng aking mga anak sa kanilang pag-aaral" (Good thing that I was able to make my small business grow to have a source of income to give further support to the schooling of my children), she added. She further believes that through her own small ways, she can still improve her family's quality of life. (By Jaesem Ryan A. Gaces, Administrative Assistant V, NHTS-PR)